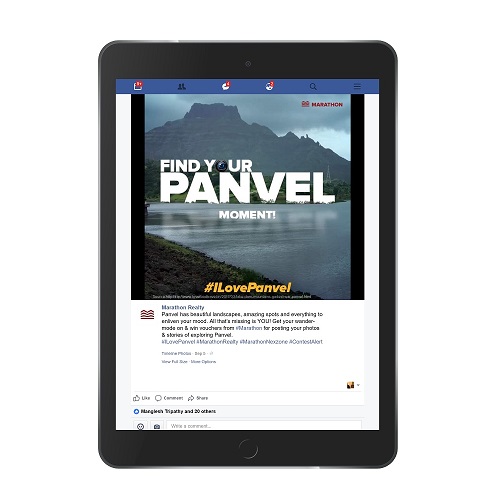 About 'Marathon Realty'
With over 70 projects in India, Marathon has developed residential complexes, industrial estates, high-rises, signature homes, retail and corporate spaces, catering to the lifestyles of all classes and masses.
About Panvel
Panvel is located on Mumbai Bangalore Highway (NH-4). It is surrounded by the mountains of Matheran to the east and south east and outer regions of Panvel. It lies
adjacent to the Navi Mumbai International Airport forming its eastern boundary.
Objective
To uplift Panvel as an upcoming growth corridor and a location amidst nature.
Target Audience
People residing in Mumbai and Navi Mumbai.
The Insight
Panvel is highly populated city due to its closeness to Mumbai. The Group constructed Marathon Nexzone, a Premium Township located on NH 4B highway and in
proximity to Panvel Railway & Bus station. The city is developing with time but has still maintained its greenery amidst locality. To uplift the location in such a manner
that the walk-ins to the project increases, Marathon Realty conducted a contest with the name #ILovePanvel photography competition.
Execution
Considering the scenic views of Panvel, the brand came up with the idea of contest #ILovePanvel, a photography competition, which will capture the beauty and engage
the consumers and the brand to uplift the growth corridor- Panvel. The brand shared various posts asking for entries from people all over Mumbai and Navi Mumbai.
People shared their best photographs in the comments section depicting the nature photograph in Panvel. The process for sharing the entries was very simple: Click.
Share. Win.
The contest got a total of 69 entries where around 43 contestant shared multiple images of scenery of Panvel.
Results:
The brand did 10-day contest on Facebook, Twitter and Instagram. Contest got around 69 entries on Facebook, Twitter and Instagram platforms with a great organic
reach on Facebook of around 78,977. It created a context that Panvel is an upcoming growth corridor in Navi Mumbai.